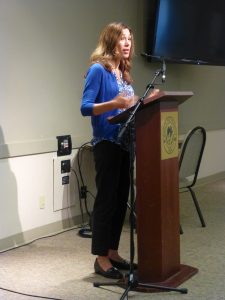 Dr. Fleming has spent over a decade researching relationships and sexuality. She has been a keynote speaker at numerous conferences and at universities such as Stanford University, Biola University, Mount St. Mary's, and the Southern California Renewal Conference. Her interactive format integrates Christian ethics with the latest principles in human flourishing, providing a unique experience for audiences.
Topics include "Healthy Relationships in a Hook-Up Culture, The LGBT debate, Healing from Sexual Sin and Shame, Marriage is a Team Sport, and Theology of the Body." She is also available to tailor a topic to your specific needs.
From 2006-2012, Dr. Fleming was a host of "St. Joseph Radio Presents," a weekly national radio broadcast, where she evangelized both the religious and non-religious listener. She is a featured blogger for several websites, where she answers questions on relationships and sexuality. Dr. Fleming recently presented her dissertation on relationships and sexuality at the national conference for the Christian Association for Psychological Studies.
Dr. Michele Fleming earned her Ph.D. in clinical psychology from the Rosemead School of Psychology, after working as a Director for the Diocese of San Diego. As a speaker, she presents a redemptive sexuality model that focuses on the reduction of shame, the integration of the sexual and the sacred, and a challenge to audience members to live out a personal sexual ethic. She has addressed general audiences, parents, teens, young adults, and adult singles at conferences, seminars, and workshops in how to live out healthy relationships in a hook-up culture.
Dr. Fleming maintains a private practice as a relationship coach, where she focuses on healthy dating for single and newly-single adults along with an area of expertise in healthy sexuality for Christians. Her approach uses the latest research in relationship functioning, integrated with biblical principles and the meaning of the body to facilitate the development of a personal sexual ethic for each client. Her own research was in the area of dating and sexual experience. As a relationship roach, she addresses attachment style, attraction theory, and barriers to successful dating.
She is also an adjunct professor for the Townsend Institute for Leadership and Counseling in Concordia University's Organizational Leadership Graduate program, training I/O professionals and executive coaches in a competence plus character leadership development model.